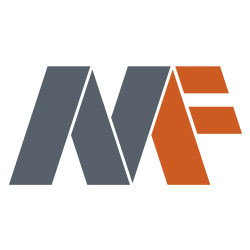 Latest posts by Metric Fencing
(see all)
Automatic gates in Perth are increasing in popularity with each passing year – and it's easy to understand why! They are extremely convenient (no more getting out of your car just to have to open the gate, drive through, get out of the car again to close the gate, and then get back in the car once more to drive up the driveway) and can help to increase your home security, privacy and the value of your property.
If you're thinking of installing an automatic gate at your home, there are a few things you should consider before you take the leap. Let's take a closer look at a few examples:
Power Supply
Some automatic gates in Perth are powered by low voltage power systems. This involves installing a transformer in a weatherproof box where a nearby power point is available and then connecting a low voltage power cable to the gate. Typically, this type of gate will also have a backup battery.
Other automatic gates are powered by solar energy. These gates come with a number of unique advantages including being environmentally friendly, can help to lower your electricity bill and with their own power source, solar automatic gates can still work during power outages.
If the gate is going to be connected to mains power, an appropriate weather-resistant 10amp GPO is appropriate for the majority of residential applications.
Sliding Gates vs Swing Gates
The type of entrance to your property should be a significant factor in deciding which type of gate to install. If space is a limitation, sliding gates are a great option. These are gates that slide along the fence line instead of opening in an arc like swinging gates do. Automatic sliding gates are also suitable for sloped driveways. Swing gates, on the other hand, are great for making a statement and can help to provide a luxurious feel each time they open.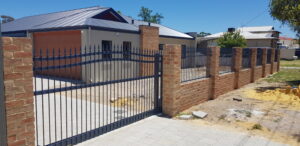 Material and Style Selection
Automatic gates can now come in a range of colours and styles (from minimalistic slats to extravagant designs) to complement the overall aesthetic of any home. Most automatic gates use materials such as high-quality and durable steel and aluminium so they can withstand everyday use and are protected year-round from the elements (rain, wind, sun, dust etc).
How we can help
Metric Fencing specialises in automatic sliding and swinging gates as well as the accessories and fittings needed for efficiently installing these gates. We can custom fabricate automatic gates to best suit your property and can turn your existing gate into an automatic one! Interested in finding out more? Give us a call on (08) 9493 3808 for a free quote or email info@metricfencing.com.au today.
https://metricfencing.com.au/wp-content/uploads/2021/10/automaticgatesPerth-scaled-e1633997054296.jpg
1500
2000
Metric Fencing
https://metricfencing.com.au/wp-content/uploads/2016/01/metric-fencing.png
Metric Fencing
2021-10-12 08:08:23
2021-11-10 08:07:37
Things to Consider When Choosing an Automatic Gate for Your Home