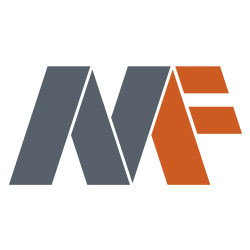 Latest posts by Metric Fencing
(see all)
Slat fencing has been a popular fencing option over the years. If you haven't made the change or are thinking of installing slat fencing, here are some reasons why you should! Slat fencing provides many benefits on top of offering a clean, modern look. Its sleek and minimal design creates a timeless look that will keep your home or business looking on-trend for years to come. At Metric Fencing, we design, fabricate and install a wide range of aluminium slat fencing options to suit you!
In addition, we can manufacture and install slat pedestrian or driveway gates to match our slat fencing. With an endless combination of colours and styles to choose from, this is perfect for anyone who wants to spruce up their property with their own personal touch. With so many styles of fencing to choose from, it can be hard to decide which one best suits your property. We can fully customise your fencing to compliment your home, no matter how old it is! If you're not sold yet on the idea, here's 3 reasons why you should consider slat fencing:
Privacy
All fences should serve their main purpose of offering privacy and protection, and with slat fencing, you can customise your level of privacy with the spacing between the slats. Having increased privacy is great for protecting your property in high traffic areas and can considerably reduce sound from the outside. These are also a great option for households with children and pets, and for those who like to use their outdoor areas for leisure and entertainment. With Metric's vertical or horizontal slats, the gaps between slats are fully customisable and can be adjusted to suit the privacy requirement of individual jobs.
Design
Metric's range of slat fencing comes in a range of colours and sizes. We stock three slat sizes: 100mm, 65 mm and 38mm. These slats are all available in a range of powder-coated colours as well as our range of wood-look aluminium slats – Metwood. As well as offering horizontal slat fencing, we can also manufacture our slat fencing so they run vertically. Metwood is designed to last with minimal maintenance requirements and for this reason, is an increasingly popular option over traditional wood fences. Metwood technology provides many benefits which include no rotting, withstands harsh Australian weather, is fire safe,  lightweight and easy to install. When installing slat fencing, you're guaranteed a fence that will last the test of time. Metwood is easy to maintain and simply requires a hose-down every so often, saving you effort, time and money in the long run.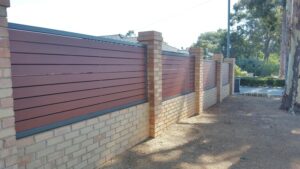 Property Value
Installing new fences will undoubtedly raise the value of your property by offering another point of functionality as well as a modern design feature. By choosing aluminium slat fencing over traditional wood, minimises the need for ongoing maintenance costs or replacement. Aluminium fencing is essentially a lifetime investment due to its highly durable properties and timeless design. Slat fencing is the perfect way to add contemporary design and privacy to any house!
If you need a gate to match your slat fencing, we've got you covered. At Metric we manufacture and install pedestrian or driveway gates to match all styles of slat fencing. Pedestrian slat gates are a great functional feature to compliment any slat fencing. We can also manufacture and install slat driveway gates. Our range of slat driveway gates can be made with various opening configurations including:
Aluminium slat single swing gate,

Aluminium slat double swing gates, or
Aluminium slat sliding gates
Metric has the capability to automate all these styles so they can be opened with the touch of a button.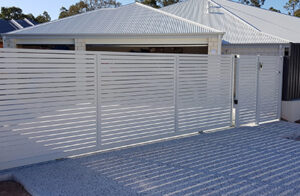 Metric Fencing can help you plan and choose all the components to bring your slat fencing design to life! As a double finalist in the Australian Fencing Awards last year, we're ready to continue providing the best fences for clients all over Perth and Western Australia on a supply only basis. Whether you require fencing for a residential or commercial project, our team have the experience and knowledge to give you a design that follows your project budget and requirements. View our aluminium slat fencing options today or give us a call to find out more!
https://metricfencing.com.au/wp-content/uploads/2021/04/slat-fencing-1.jpg
1081
1440
Metric Fencing
https://metricfencing.com.au/wp-content/uploads/2016/01/metric-fencing.png
Metric Fencing
2021-04-06 13:50:14
2021-04-06 14:20:24
Give Your Home A Modern Look With Slat Fencing